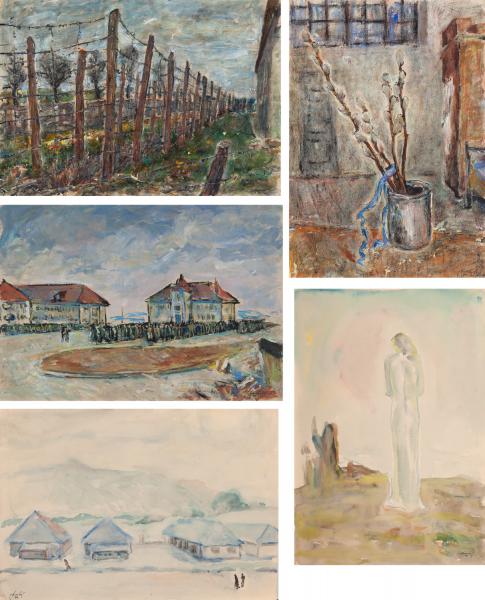 15. MAXIMILIAN FEUERRING
(1896-1985)
SCENES FROM A PRISONER OF WAR CAMP (5)
Artist name and "Oflag VIIA" stamp verso
Mixed media
29.5 x 41.5cm each
Estimate: $5,000/8,000
Maximillian Feuerring's journey and contributions to the art world are quite remarkable, filled with both personal challenges and artistic achievements. Born in 1896, he lived through a tumultuous period in history, which greatly influenced his experiences and artistic expressions.

Feuerring's arrival in Australia in 1950 marked a significant turning point in his life and career. Already renowned as a Polish artist, he considered himself stateless due to the occupation of his homeland by Russia after World War II. His relocation to Australia led to him becoming an Australian citizen in 1955. In his new home, he became a prominent figure in the realm of post-war émigré art.

One of the notable aspects of Feuerring's personality was his candidness and outspokenness, ... particularly when it came to matters of art. This trait often led to controversy, as evident from his exhibitions in Australia. His exhibitions were met with a mix of opinions, and critics and writers were divided in their assessments. Feuerring's critique of Australian painters' disregard for Europe's art centers, especially French art, showcased his belief in the value of European art movements.

His clashes with art critics, as well as his attempts to improve art criticism in Sydney, further emphasized his strong views on the subject. His engagement in editorial debates and public discussions underscored his dedication to shaping the art discourse in his new home.

Feuerring's artistic journey was shaped by his extensive education and experiences in various European cities. Studying in Berlin, Paris, Florence, and Warsaw, he gained a diverse artistic background. His diploma from the School of Decorative Art in Rome in 1926 marked a significant milestone. He went on to lecture at the Academy of Fine Arts in Warsaw until 1939, when World War II disrupted his life.

During the war, he was imprisoned at Oflag 7a, a German Army POW camp for Polish Army Officers. It was a defining period and despite the hardships and personal losses he endured, he managed to create a collection of watercolour paintings that depicted daily life within the camp. These works hold immense historical and artistic value, serving as chronicles of the conditions and experiences of those interned.

Feuerring's dedication to art education persisted after the war, as he lectured at the International University in Munich before ultimately settling in Australia. He continued teaching and producing art, leaving a lasting impact on the Australian art scene. His works found their place in major art institutions across the country, as well as in provincial and university collections.
Read more