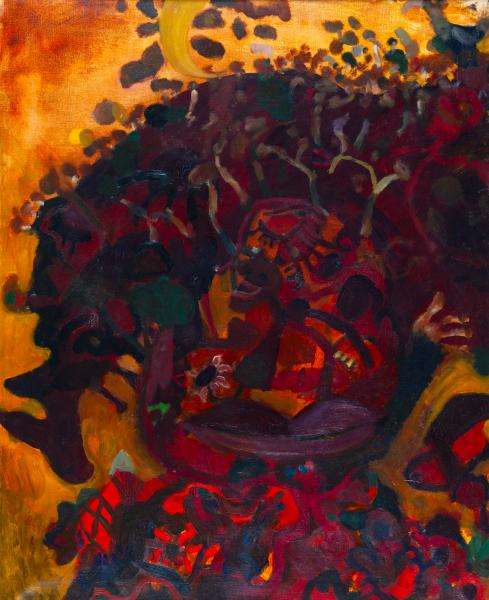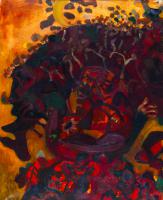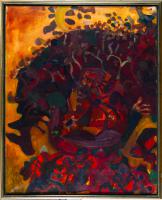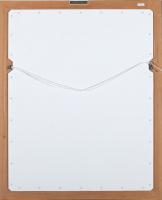 29. JOHN OLSEN
(1928-2023)
LOUISE'S DREAM OF AUSTRALIA
Signed indistinctly upper right
Oil on canvas
100 x 80cm
Estimate: $65,000/85,000
John Olsen was an eminent and multi-award-winning Australian artist whose unique and engaging style garnered critical acclaim, commercial triumph, and extensive public admiration. He was a bona fide colossus in Australian art.

Olsen's life began in Newcastle, NSW, but at the age of seven, his family relocated to Bondi Beach. His formal education ended at the age of fifteen, after which he enrolled in the Dattillo Rubbo Art School in 1947. From 1950 to 1953, Olsen honed his skills at the Julian Ashton Art School in Sydney, continuing his studies at Auburn School until 1956.

Olsen embarked on a European voyage to paint in 1957. After stops in London and Cornwall in England, he made his way to the European mainland. In 1957, he studied printmaking in Paris ... and spent the following two years in Deya, Spain, amidst a colony of Australian artists, including Frank Hodgkinson, Paul Haefliger, Jean Bellette, and Carl Plate, among others. This period saw him come under the influence of Tachist artists Antoni Tàpies and Jean Dubuffet, members of the CoBrA group, and Joan Miró, whose impacts can be traced in Olsen's distinctive style.

In 1960, Olsen returned to Sydney and commenced teaching at the East Sydney Technical College. His early accolades included the 1960 Rockdale Art Award, the H.C. Richards Memorial Prize, Queensland Art Gallery, the Perth Prize, and the Royal Easter Show A.E. Armstrong Art Prize (all in 1961), as well as the 1964 Launceston Art Purchase Exhibition Prize.

The Wynne Prize was awarded to Olsen in 1969 and again in 1985, the Sulman Prize in 1989, and the Archibald Prize in 2005. While some categorised him as an abstract artist, Olsen dismissed this label, stating, "I have never painted an abstract painting in my life". He described his work as "an exploration of the totality of landscape". Even in Louise's Dream of Australia (1969), named after his young daughter, the human figure emerges distinctly against a landscape featuring a hilltop, birds, and trees in his signature style, underlining his fascination with the Australian landscape.

John Olsen was married four times. His second wife was fellow artist Valerie Strong, with whom he founded the Bakery art gallery in 1967. They had two children, Tim and Louise, both of whom have established significant careers in art circles. Louise, the namesake of this painting, co-founded the acclaimed Australian fashion jewellery label, Dinosaur Designs, and is a respected designer, artist, and benefactor.

In 1977, Olsen was appointed an OBE; he received an Australian Creative Fellowship in 1993, and was appointed AO in 2001. He was also awarded the Centenary Medal in 2001.

Olsen's work graces the collections of all Australian state galleries, the National Gallery of Australia in Canberra, and The Sydney Opera House. His pieces adorn regional galleries throughout Australia, including the Newcastle Art Gallery, which houses several of his key works.

On 11 April 2023, Olsen passed away at his home near Bowral, New South Wales, at theage of 95, undoubtedly leaving an indelible mark as one of Australia's foremost artists of his era.
Read more