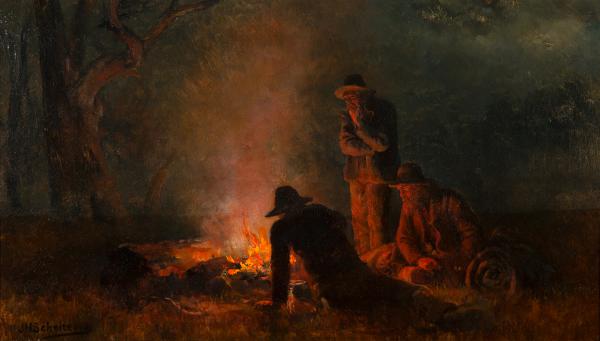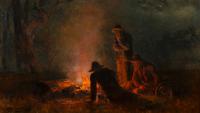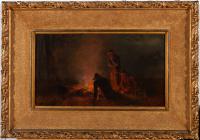 26. JAN HENDRIK SCHELTEMA
(1861-1941)
SUNDOWNERS
Signed lower left
Oil on canvas
42 x 75cm
Estimate: $28,000/35,000
Exhibited: "Masterworks from Yesteryear", GFL Fine Art, Perth, August-September 2004,
catalogue number 15.
After completing an extensive study program at the Academy of Antwerp under the esteemed animal painter, Charles Verlat, Scheltema migrated to Australia from Holland in 1890, he was 29 years of age.

Soon after his arrival in the Victorian Colony in 1890, an article was posted about him in The Age newspaper........... "the other works, of three years' hard study from Nature, are by Mr. J. H. Scheltema, a clever cattle painter, working in collaboration with Signor Rolando, and who had the honour of gaining the travelling prize of four years' scholarship which was given by the King of Holland in 1880, and who will remain in the colony but a short time. ...

This artist prefers winter time, with cold, grey tones for sketching from nature, and excels in the representation of cattle, sheep, and animals in general. His early morning scenes, and morning mists and fogs—so well delineated—are distinctively Australian, and need only to be seen to be much admired, both for their truthfulness and their skilful and artistic treatment."

As it transpired, the anticipated short stay in the colony became a permanent one. The Colony of Victoria, and subsequently the Commonwealth of Australia, became his permanent home, save for visits to his homeland.

Scheltema lived in Carlton for many years, maintaining a studio in the Cromwell building on Bourke Street, opposite the GPO. He worked and exhibited his paintings there, often collaborating with Charles Rolando and John Mather by adding horses, cattle, and sheep to their landscape views. He exhibited regularly with The Victorian Artist's Society and also took on private students, one of whom was the highly regarded Robert Camm.

In 1917, he married a Melbourne native, Edith Baily Smith, who gave birth to their son, Nicholas Herbert, in 1918. Scheltema became a naturalised citizen in 1935. He passed away in Palmwood, Queensland in 1941. He was among the few European trained artists, who quickly adapted to the unique Australian light and produced images that delighted local art collectors. His works became highly sought after and adorned the walls of Sydney and Melbourne's exclusive clubs, hotel lounges, and the private homes of the leading art collectors of the era.

in a manner that was pleasing to the eye, his atmospheric work contained a narrative element that would explain rural life and its inhabitants to the city bound people of the era.

Both the National Gallery of Victoria and the Art Gallery of New South Wales included examples of his work in their collections. The 1906, 1907, 1916, and 1919 editions of the magazine "Australia Today" featured examples of his paintings, many of which were purchased by the Commonwealth Government for overseas distribution.

However there was a lack of biographical information from the standard sources about Scheltema led to Hal Missingham, in his capacity as the director of the Art Gallery of New South Wales, advertising in the Melbourne Age in 1952 for information about him. This information was intended for inclusion in a new catalogue of Australian oil paintings in the gallery's collection.

Unexplainably, William Moore's pioneering 1934 volume "The Story of Australian Art From The Earliest Known Art Of The Continent To Today"didn't reference him and his omission was noted by commentators of the time. They pondered whythose of much lesser talent were included in Moore's text and Scheltemanot.

Unfortunatelysome of theart historiansthat followed Moore, including Bernard Smith and Robert Hughes, continued the trend of overlooking Scheltema as they also failed to reference him in their respective tomes. This oversight by historians was not corrected till the publication of Alan Mculloch's "Encyclopaedia of Australian Art" in 1968.




Read more