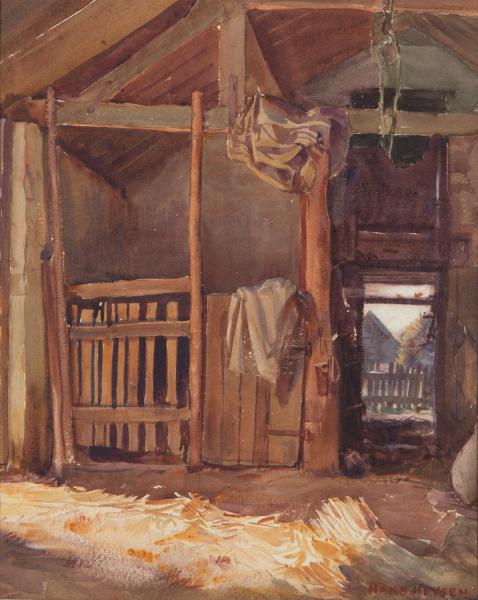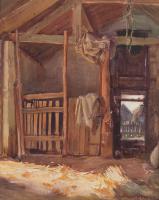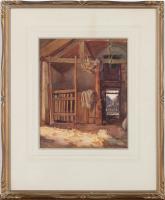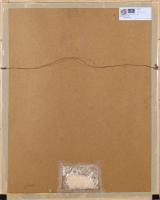 28. HANS HEYSEN
(1877-1968)
EDWARDS BARN OAKBANK
Signed lower right
Watercolour
33 x 26.5cm
Estimate: $10,000/15,000
Exhibited: "Collectors Pride Exhibition", Art Gallery of Western Australia, June 1977, catalogue number 48, titled in catalogue as "Barn Interior".
To historians and academics, Heysen is considered to be the quintessential painter of rural Australia. He has been called the father of the gum tree school and his mastery in portraying that subject is unquestionable. He also excelled at painting still life, mountain ranges and coastal scenes. His choice of subject was limitless as the common quality in all of his work is the exceptional draughtsmanship, and an outstanding ability to paint light and atmosphere. ...

This watercolour of the interior of Edwards Barn in Oakbank South Australia is a fine example of Heysen's multi talents and his powers of observation. He has chosen his subject on a bright sunny day where theinterior light of the barn contrasts with that outside. He has shown the difference between the two with a shaft of light streaming in through the unseen barn door and a glimpse of the farmyard through a distant window that further contrasts the light between inside and out.

One can feel that the temperature of the day is pleasant and the demeanour of the artist is composed.Heysen had the ability to portray his chosen subject in a manner that is agreeable to the experienced and the new eye alike. As with all great painters, the work is enjoyable at any distance, and cannot be totally absorbed in a single viewing.

From afar, the subject of a barn interior is obvious and up close the detail of the interior become apparent such as the hay on the ground, the folds in the tarp and the patina of the barn interior. This is an old barn and Heysen portrays that splendidly. His complete control and understanding of the watercolour medium is perceptible even to graduating the light quality between that at the barn door and the dimmer it becomes as one peers further into the barn interior.

Heysen has won numerous awards throughout his career. He won the Wynne Prize for landscape painting nine times, which is a record that is unlikely to be equalled. For his services to art, he was awarded and OBE in 1945 and made a Knight Bachelor in 1959.

His work is in the collection of every major public collection in Australia. The Heysen Tunnels and the electoral district of Heysen in the South Australian Parliament were named after him.

In 1968 he died at his property "The Cedars" near Hahndorf in the Adelaide Hills. He left a lasting legacy in the art world as one of Australia's foremost painters.


Read more