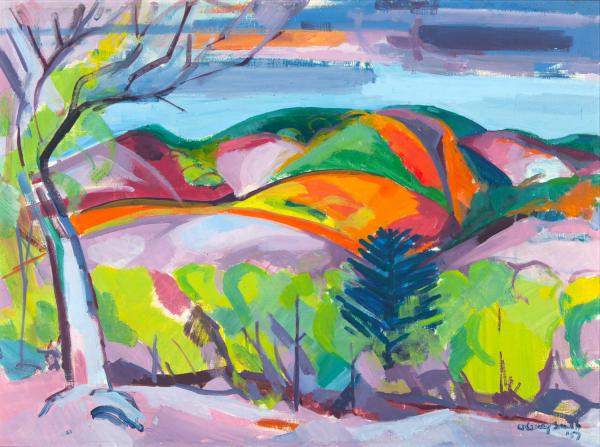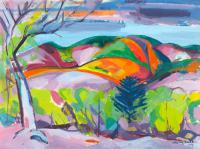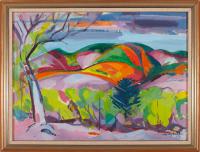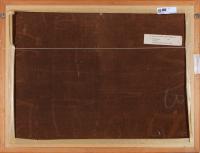 14. GUY GREY-SMITH
(1916-1981)
DARLING RANGE
Signed and dated 57 lower right
Oil on board
67 x 90cm
Estimate: $30,000/40,000
Exhibited: "Guy Grey-Smith A Survey", McClelland Gallery and Sculpture Park, 2023,
Langwarrin, Victoria, catalogue number 11
.
"Guy Grey-Smith's Landscapes of Western Australia", Edith Cowan University, 1996,
illustrated page 27, catalogue number 11
.
Adult Education Rooms Perth, November-December 1957, catalogue number 10.
When Guy Grey-Smith returned to Australia from England in 1948 his artistic approach diverged significantly from the practices of the time. He opted for high-keyed colours to capture the intensity of the Western Australian ... light and simplified forms into patterns across the landscape.

He raised the horizon line or completely eliminated it altogether and introduced international artistic trends to a conservative Australian public. His new approach drew criticism from those uncomfortable with this new form of art, but found favour with many of the critics. Particularly The West Australian Newspaper's Charles Hamilton who wrote, "He began to interpret his visual experiences in a way new to us and probably Australia, producing effects which would profoundly modify the painting of our scenery."

"Darling Range Landscape," is a representation of Grey-Smith's early artistic style. While he had already established his colour palette, the signature beeswax emulsion technique, for which he is better known, did not make an appearance in his work until 1963, six years after this work was completed. Works from the 1950's, provides insight into Grey-Smith's pioneering approach to Australian landscape art and his determination in the face of uncertainty.
Read more