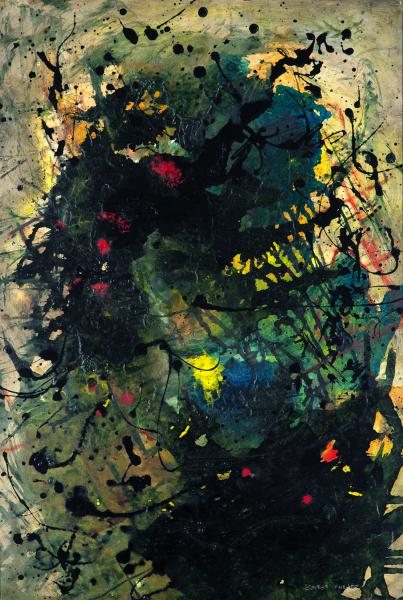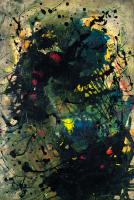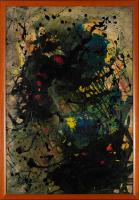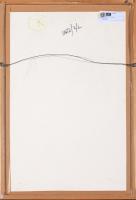 21. ERNEST SIDNEY PHILPOT
(1906-1985)
INTRANSIGENCE
Signed lower right
Oil and enamel on board
75 x 49cm
Estimate: $4,000/6,000
Ernest Sidney Philpot was a groundbreaking figure in Western Australian art history. Born in England in 1906 and arriving in Western Australia with his family in 1913, he embarked on a career as a sign-writer in 1921, a profession he continued until 1957.

At a time when artists in Western Australia struggled to make a living through their art, Philpot defied convention by producing non-objective abstract paintings. He is recognized as the first exponent of abstract art in Western Australia.

Because of the lack of local appreciation for his abstract work, Philpot sought to expand his audience by holding a one-man exhibition in London during the winter of 1960-1961. This exhibition, hosted at The Commonwealth Institute ... in Kensington, featured a retrospective of his career from 1930 to 1960, showcasing his early traditional paintings and works showing his gradual movement into abstraction.

Philpot was drawn to the opportunities and exposure that the institute offered, but his pursuit of success in the London art scene was marred by his unfamiliarity with the intricacies of the English art market and its protocols. His hopes of international recognition were not realized, leading to feelings of disillusionment.

In addition to his artistic pursuits, Philpot lived a multifaceted life. He had studied at the National Gallery School in Victoria, served as a field surveyor with the AustralianArmyduring WW2, and played the euphonium in the Salvation Army brass band. His artistic achievements included winning the Claude Hotchin Painting Prize in 1948 and the Art Gallery of Western Australia Prize for Oil Painting in 1952.

Philpot was an active participant in the Perth Society of Artists, regularly exhibiting his work. He also managed a sign-writing business he had inherited from his uncle in 1937.

In 1957, he sold his sign-writing business and took on the role of an art master at Wesley College, where he continued to educate and inspire students until his retirement in 1968. During this period, he also served as an art critic for the Perth Sunday Times from 1961 to 1965.

This work"Intransigence" pushed the boundaries of traditional art by abstracting the fundamental elements of picture making: shape, colour, and texture. While such abstract art is widely accepted today, in the context of Perth in the 1960's, it was met with resistance and derision. Nevertheless, Philpot remained committed to his objective of pure abstract painting, undeterred by the opinions of others.

An important aspect of Philpot's ability to pursue his artistic vision was his financial independence, which allowed him to insulate himself and his family from the necessity of selling his artworks for a livelihood. This situation enabled him to explore and produce art that might not have been possible otherwise.

Ernest Sidney Philpot's artistic legacy endures through his pioneering contributions to abstract art in Western Australia and his commitment to pushing artistic boundaries. His works are now part of various prestigious art collections, including The Art Gallery of Western Australia, the University of Western Australia Collection, the National Gallery of Australia, and numerous regional and private collections across Australia.


Read more