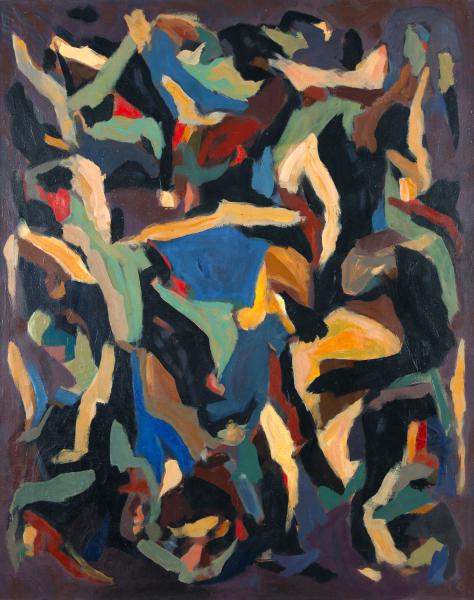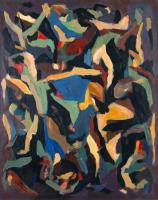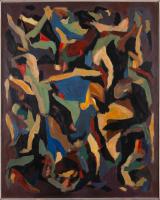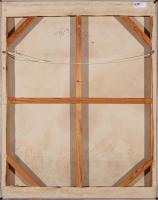 10. DAVID ASPDEN
(1935-2005)
TRAVELS IN INDIA
Signed with monogram lower right
Acrylic on canvas
150 x 120cm
Estimate: $12,000/18,000
David Aspden was a prominent Australian artist known for his dedication to non-figurative art and his deep exploration of colour. He was born in 1935 and arrived in Australia with his family in 1950, when he was just fifteen years old. ... His journey into the world of art began when he left school and became apprenticed to a painter and sign-writer in Port Kembla,it was during this period that he developed a strong interest in becoming a full-time artist.

What set David Aspden apart was his commitment to self-teaching and his rigorous approach to art. He believed that he could achieve a level of discipline and experimentation on his own that he might not receive in an art school. He dedicated himself to a strict study and experimentation routine, leaving little time for leisure. This early commitment to his craft laid the foundation for his later success as an artist.

In 1959, at the age of 24, Aspden witnessed the affirmation of the "Antipodean Manifesto," a significant event in the Australian art scene. The impact of this document on Australian institutions, collectors, and dealers was profound, and it played a role in shaping the direction of Australian art for decades to come. While commercial success in the art world wasn't his primary motivation, Aspden remained devoted to his artistic vision throughout his career.

In 1964, he moved to Sydney and set up a studio to focus on his art full time. Over the years, he received recognition for his work, including winning the prestigious Wynne Prize for Landscape Painting in 1995. He also received awards such as the Wollongong Prize in 1963 and 1965, as well as the Muswellbrook and Berrima Prizes in 1967. His art can be found in the collections of various state institutions and the National Gallery in Canberra, highlighting his significance in the Australian art world.

One of the defining aspects of David Aspden's work was his deep exploration of colour. He believed that colours in painting could either complement or contrast with each other, and he often incorporated harmonious and contrasting colour palettes into his work. He saw colour as a powerful tool for expressing a wide range of emotions and elements, from exhilaration to despair, well-being to calm. His dedication to the exploration of colour made him an important figure in the non-figurative art movement in Australia, leaving a lasting legacy in the country's art scene.
Read more